Microsoft baru saja merilis build 84.0.522.5 untuk Microsoft Edge Chromium Dev, update ini bisa dibilang terlambat beberapa hari dari jadwal yang seharusnya. Adapun update hari ini, beberapa penambahan fitur baru dimasukan dalam build 84.0.522.5 ini.
Salah satu yang cukup penting adalah fitur Read Aloud untuk file PDF, lalu kemampuan translate di Immersive Reader, peningkatan fitur Collections, dan lainnya. Selain itu ada juga update menarik untuk pengguna Edge Chromium yang menggunakan Mac yaitu kini Shy UI dapat diaktifkan pada OS buatan Apple tersebut.
Shy UI ini merupakan salah satu fitur yang dibawa Microsoft dari Edge Legacy ke Edge Chromium, dimana fitur ini akan memungkinkan kamu mengakses Tab dari mode full screen dengan sangat mudah.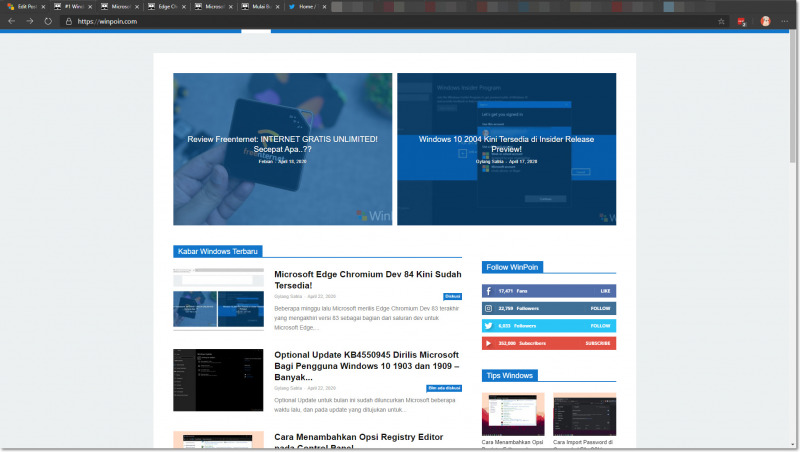 Baca Juga : Cara Mengaktifkan Mode Full Screen Ala Edge Legacy Di Edge Chromium
Selain itu, kini pengguna juga bisa mengaktifkan flags experimental "Force Dark Mode for Web Contents" yang telah ditingkatkan untuk membuat website dipaksa menampilkan Dark Mode.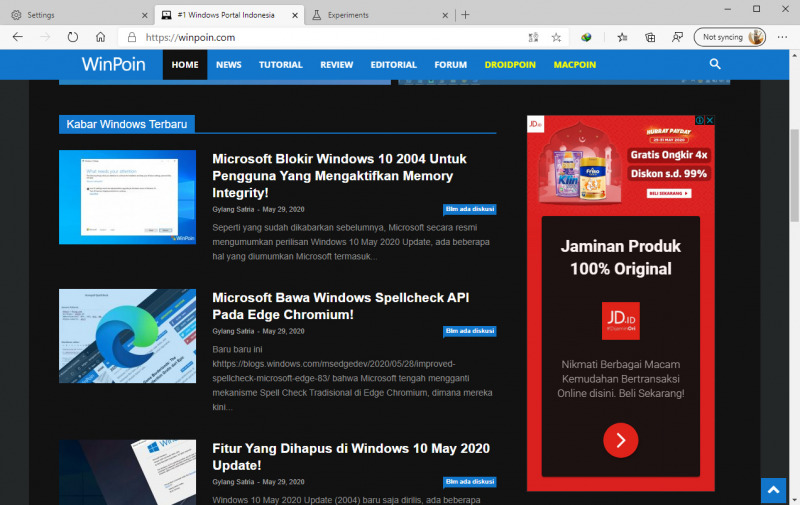 Nah bagi yang penasaran, berikut adalah changelog lengkap dari Edge Chromium Dev 84.0.522.5.
Fitur Baru
Added support for Read Aloud in PDFs.
Added support for full page translation in Immersive Reader.
Added the ability for text saved to a Collection to take you back to the location on the webpage it came from.
Added back support for the Chromium "Force Dark Mode for Web Contents" flag.
Enabled Shy UI on Mac.
Added support for the F6 key to change focus on Mac.
Peningkatan Reliability
Fixed an issue where certain types of videos like HEVC don't play properly.
Fixed an issue where webpages with videos sometimes hang.
Perubahan Behavior
Fixed an issue where attempting to save an edited PDF brings up the "Save As" dialog every time it's saved instead of silently saving.
Fixed an issue where the Find on Page popup sometimes gets stuck and can't be interacted with.
Fixed an issue where history entries in the Jumplist sometimes aren't cleared after closing the browser when history is set to be cleared on close.
Fixed an issue where favorites on the Favorites Bar sometimes forget that they're supposed to be icon only.
Fixed an issue where extensions that allow keyboard shortcuts to be set aren't able to have those shortcuts be changed on edge://extensions/shortcuts.
Fixed an issue where autofill popups sometimes appear when they shouldn't with incorrect suggestions.
Fixed an issue where browser profiles associated with a work or school account are sometimes unintentionally signed out or removed.
Fixed an issue on Mac where languages on the Language Settings page sometimes can't be selected to "Offer to translate pages in this language".
Fixed an issue where starting Read Aloud on certain pages leaves Edge in a state where Read Aloud can't be stopped even though there's nothing to read.
Selain itu ada juga known issues yang bisa dibilang cukup banyak, dan sebagian masih sama seperti yang hadir pada build sebelumnya. Kamu bisa melihatnya secara lengkap pada halaman Microsoft berikut.
Nah untuk kamu pengguna Edge Chromium Dev, silahkan masuk kehalaman edge://settings/help untuk mendapatkan update terbaru ini.