Baru baru ini Intel memperbaiki Driver Bluetooth dan WiFinya untuk mereka pengguna perangkat Intel Wireless Device di Windows 10 May 2020 Update atau yang lebih lama.
Update ini dikatakan memperbaiki sebagian besar masalah terkait Blue Screen Of Dead (BSOD) yang mungkin sering / sesekali dialami para pengguna, selain itu update ini juga dilengkapi dengan peningkatan kinerja dan peningkatan keamanan.
Adapter yang mendapatkan Update?
Berikut adapter yang mendukung Driver Update :
Driver Versi 21.110.1.1 untuk Adapter AX201, AX200, 9560, 9260, 9462, 9461
Driver Versi 20.70.18.2 untuk Adapter 8265 dan 8260.
Driver Versi 19.51.30.1 untuk Adapter 7265, 3165 dan 3168.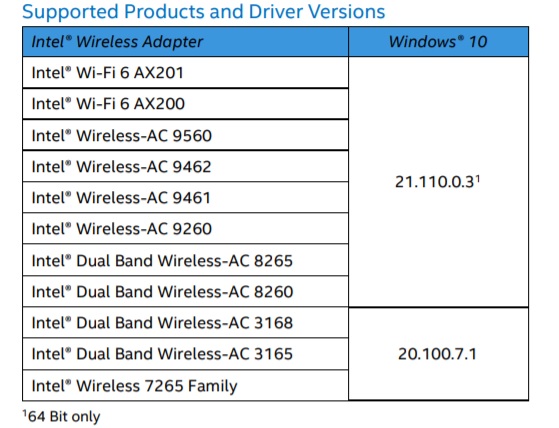 Dan bagi yang penasaran, berikut adalah Changelog lengkap dari update driver ini:
Fixes an issue where the data transfer performance is reduced when the network connections shifts from Wi-Fi Direct to 2.4 GHz AP.
Fixes BSOD caused by the Intel wireless driver.
Fixes BSOD when you resume your device from Sleep mode and Modern Standby feature is enabled.
Fixes BSOD reported with Event ID 5010 in Event Viewer.
Fixes performance issues when you resume your laptop from sleep mode and Modern Standby is enabled.
Fixes disconnection issues when your system is sitting idle or you're streaming online videos at 2.4 GHz.
Includes functional and security improvements.
Nah bagi kamu para pengguna Intel dengan Adapter yang telah disebutkan diatas, kamu bisa mendownloadnya melalui Tool Intel Driver and Support Assistant (iDSA) yang dapat kamu download pada halaman berikut, selanjutnya silahkan ikuti langkah yang diinstruksikan.
Via : Windows Latest