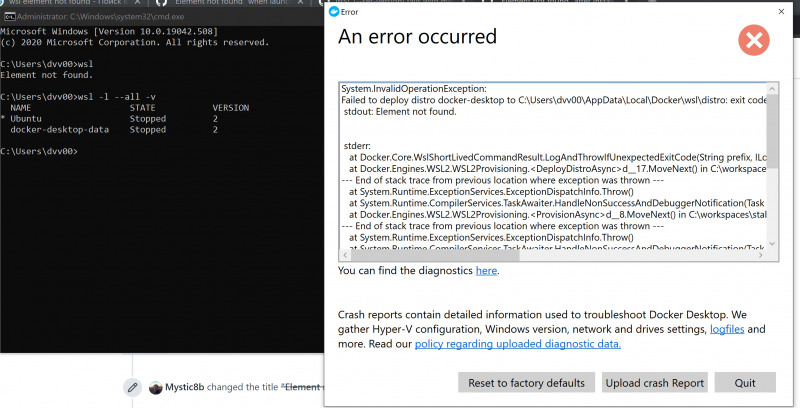 Awal bulan ini dikabarkan bahwa update KB4571756 yang diberikan untuk Windows 10 May 2020 Update menjadi sumber masalah pada fitur Windows Subsystem For Linux, dimana pengguna akan mendapati pesan kesalahan "Element not found" yang menjadikan fitur WSL tersebut tidak dapat berjalan dengan baik pada perangkat pengguna.
Terkait dengan masalah tersebut, baru baru ini Microsoft mengkonfirmasi bahwa mereka telah memberikan perbaikan yang akan hadir bersamaan dengan versi Windows 10 20H2 (build 19042).
"Windows Insiders on Build 19042.508 in the Beta and Release Preview Channels who use Windows Subsystem for Linux (WSL) will be impacted by "Element not found" error when they try to start WSL. With the help of Insiders, we have identified the root cause of the issue and have created a fix which should be included in the next 20H2 servicing release shortly." kata Microsoft.
Perbaikan masalah tersebut akan hadir dalam Build 19042.508 yang kini ada di Insider Beta dan Release Preview Channel, namun selain itu bagi mereka yang ingin segera memperbaiki masalah 'Element not found' pada WSL tersebut tanpa harus beralih ke Windows 10 20H2, mereka dapat menghapus update KB4571756.
"Insiders who wish to be unblocked immediately can uninstall this build (KB4571756) which is a non-security update," Jelas Microsoft.
Sedikit informasi mengenai Windows 10 20H2, sampai saat ini versi Windows 10 ini masih berada di Insider Release Preview, dan berdasarkan informasi yang dijelaskan Microsoft, Build 19042.508 adalah Final Build yang akan hadir untuk Release Stable yang diperkirakan akan segera meluncur bulan depan.
Baca Juga : Windows 10 20H2 Kini Meluncur Untuk Insider Release Preview
Via : News Softpedia