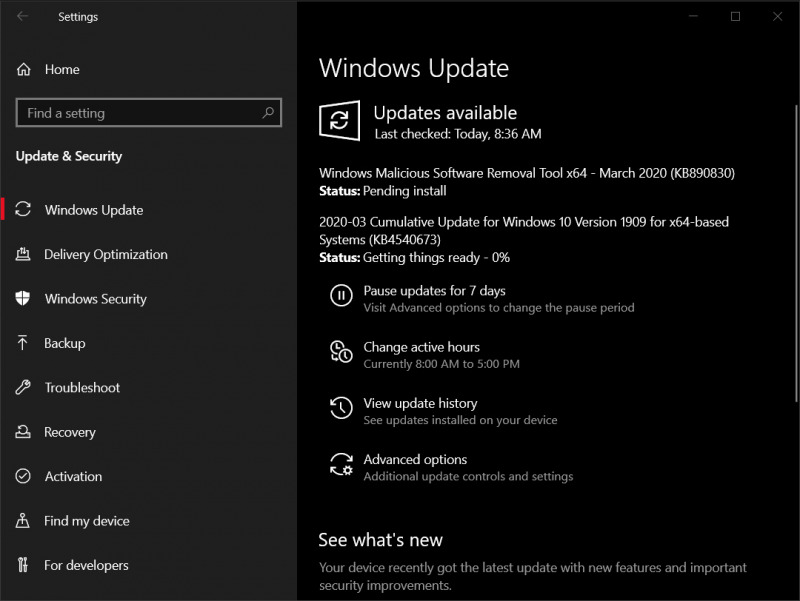 Seperti biasa, didalam minggu kedua awal bulan, Microsoft selalu merilis Patch Tuesday untuk seluruh versi Windows 10, Salah satunya adalah update KB4540673 yang diberikan untuk pengguna Windows 10 1903 dan 1909.
Update ini akan membawa build OS menjadi Build 18362.719 (Windows 10 May 2019 Update/1903) dan Build 18363.719 (Windows 10 November 2019 Update/1909). Selain itu ada beberapa yang dihighlight Microsoft dalam changelognya yaitu:
Pembaruan untuk meningkatkan keamanan saat menggunakan Microsoft Edge dan Internet Explorer.
Pembaruan untuk memverifikasi nama pengguna dan kata sandi.
Pembaruan untuk meningkatkan keamanan saat menggunakan perangkat eksternal (seperti game controller, printer, dan webcam).
Untuk Windows 10 1903 sendiri, ada beberapa peningkatan dan perbaikan yang diberikan, diantaranya adalah:
Addresses an issue that prevents certain users from upgrading the OS because of corrupted third-party assemblies.
Security updates to Windows App Platform and Frameworks, Windows Media, Windows Silicon Platform, Microsoft Edge, Internet Explorer, Windows Fundamentals, Windows Authentication, Windows Peripherals, Windows Update Stack, and Windows Server.
Sedangkan untuk Windows 10 1909, tidak ada informasi peningkatan dan perbaikan lain yang diberikan, kecuali peningkatan dan perbaikan yang sama seperti yang diberikan pada Windows 10 1903.
Masalah Yang Diketahui
Seperti biasa, dalam update yang diberikan kadang ada masalah yang diketahui/known issues.
"When using Windows Server containers with the March 10, 2020 updates, you might encounter issues with 32-bit applications and processes." Known Issues dalam halaman changelog update.
Nah untuk kamu yang ingin melakukan update, kamu bisa masuk ke Settings > Update & Security > Windows Update dan tekan Check For Updates. Dan semoga saja tidak ada masalah menyusul dalam update ini.
Via : Microsoft