Dua hari lalu, selain mengirimkan update Update KB5010793 dan KB5010795 untuk pengguna Windows 10 2004, dan keluarganya, serta untuk Windows 11, Microsoft juga merilis update KB5010791 yang mana update ini dikhususkan untuk kamu para pengguna Windows 10 LTSC 2019 yang berbasiakan Windows 10 1809.
Nah sama halnya dengan update yang diberikan sebelumnya, di update ini ada perbaikan pada masalah VPN yang mana artikelnya dapat kamu baca pada halaman berikut : Koneksi VPN L2TP over IPSEC Tidak Lagi Berfungsi Setelah Update Januari 2022!
Nah kawan kawan, selain perbaikan masalah tersebut, ada banyak perbaikan lain yang dihadirkan, dimana diantaranya adalah perbaikan pada masalah format ReFS, dan juga masalah pada Active Directory, kamu bisa melihat changelog lengkapnya pada daftar berikut.
Addresses a known issue that might cause IP Security (IPSEC) connections that contain a Vendor ID to fail. VPN connections using Layer 2 Tunneling Protocol (L2TP) or IP security Internet Key Exchange (IPSEC IKE) might also be affected.
Addresses a known issue that might cause Windows Servers to restart unexpectedly after installing the January 11, 2022 update on domain controllers (DCs).
Addresses an issue that prevents Active Directory (AD) attributes from being written properly during a Lightweight Directory Access Protocol (LDAP) modify operation when you make multiple attribute changes.
Addresses an issue that might prevent removable media that is formatted using the Resilient File System (ReFS) from mounting or might cause the removable media to mount in the RAW file format. This issue occurs after installing the January 11, 2022 Windows update.
Nah selain itu ada dua hal yang di highlight Microsoft, dimana diantaranya adalah:
Updates a known issue that affects VPN connections. 
Updates a known issue that causes unexpected restarts on Windows Server domain controllers. 
Bagaimana, ada cukup banyak perbaikan penting bukan, jadi jika kamu adalah pengguna Windows 10 LTSC 2019, kamu bisa langsung saja memperbarui OS kamu melalui halaman Settings > Update & Security > Windows Update, kemudian check for update dan update harusnya akan langsung terdownload dan terinstall secara otomatis.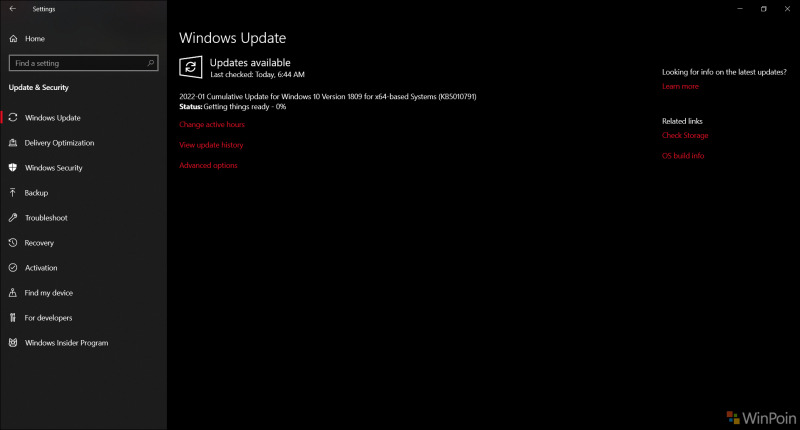 Via : Microsoft