Minggu ini, para pengguna Windows Insider Dev Channel mendapatkan update baru sesuai dengan jadwal mingguan dari Microsoft, dimana update build yang dihadirkan kali ini adalah build 25201, tentu saja ada sejumlah perbaikan dan peningkatan yang dihadirkan.
Mari kita bahas peningkatan terlebih dahulu, yang pertama, peningkatan yang dihadirkan adalah Expanded Views in Widgets, Dimana Widget kini bisa diperbesar seukuran layar pengguna.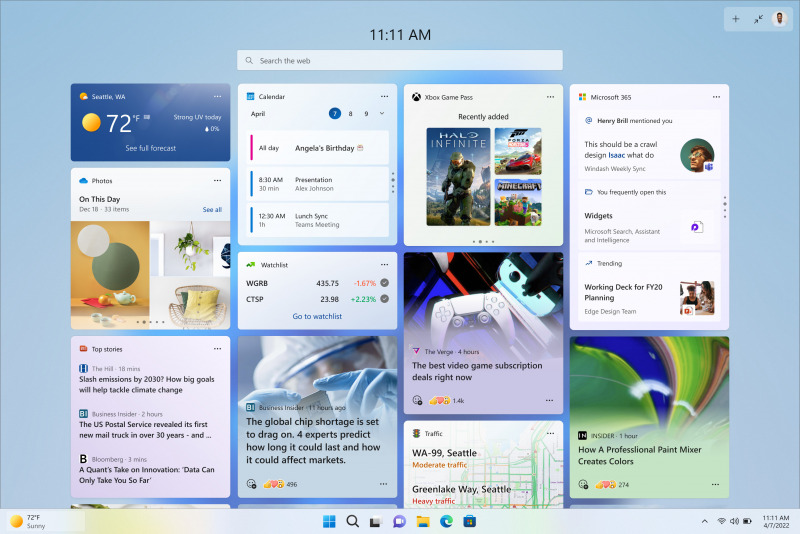 Nah seperti pada gambar diatas, kamu bisa mengatur tampilan dari Widget dengan menggunakan tombol expanded / collapse dibagian kanan atas widget.

Dengan fitur ini, pengguna bisa melihat lebih banyak widget dalam layar Windows 11 nya, dan tentu ini adalah peningkatan keren untuk kamu yang memang menggunakan Widget di Windows 11.
Selain dari peningkatan Expanded Views in Widgets, ada peningkatan Game Pass Widget juga loh, dimana kini, widget bisa menampilkan sejumah informasi game pass tanpa harus login terlebih ke Xbox Profile dengan catatan bahwa kamu telah login ke akun XBox pada aplikasi Xbox di PC.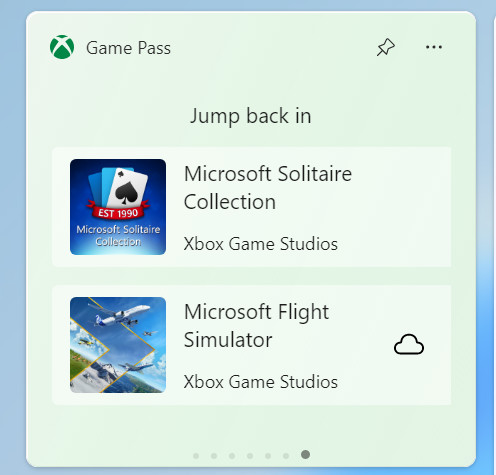 Selain itu pada widget ini, akan ada sejumlah recens played games yan akan tampil disana, dimana dengan itu pengguna akan dipermudah untuk melanjutkan sesi permainan mereka.
Meskipun begitu, peningkatan pada Game Pass Widget ini baru dihadirkan untuk sebagian kecil Insider saja, jadi mungkin kamu belum mendapatkan fitur ini.
Peningkatan Lainnya
Nah selain dua hal diatas, ada banyak peningkatan pada Windows 11 Insider Build 25201, seperti perbaikan pada file explorer yang kini hasil pencarian akan ditampilkan tanpa harus menekan tombol enter, dan perbaikan pada notifications banner yang kadang tidak muncul di widget board.
Untuk lebih jelasnya kamu bisa lihat changelog berikut:
File Explorer search will now show results as you type. The full search results page will update live without needing to press enter. We are beginning to roll this out, so the experience isn't available to all Insiders just yet.
We're experimenting with adding more cloud files to search results from Home.
Fixed the issue in the last few flights causing a bugcheck when moving your mouse in certain games.
As a one-time change to help people find their folders with the navigation pane updates, if the default folders pinned to File Explorer's navigation pane had been unpinned, they will be re-pinned after upgrading.
Fixed a memory leak which was happening when closing File Explorer windows.
The apps in the taskbar overflow flyout should now be in the correct order when using an Arabic or Hebrew display language.
Fixed an issue where if you hadn't already opened OneNote once, using the pen click to invoke OneNote wouldn't work.
Made a change to help address an issue where it wasn't possible to use the Pinyin IME to type in the chat box of certain games.
Fixed an issue which was causing sporadic Settings app crashes.
Removed an erroneous white pixel in the icon animation when clicking the Apps category in Settings.
We have fixed the issue where in some cases, the notification banner for some badging would not appear in the widgets board.
Fixed an issue where explorer.exe was crashing if you dragged a snap group in Task View and dropped it into another Desktop.
Fixed an issue related to interacting with the Desktops flyout in the taskbar which was causing periodic explorer.exe crashes.
Fixed a DWM crash in the last few flights which could lead to a brief black screen when rotating a tablet.
Fixed a rare issue which could cause a DWM crash when watching videos in certain UWP apps in recent builds.
Fixed an issue impacting Task Manager reliability.
Fixed an issue causing some Insiders to unexpectedly get the message "it is not possible to connect to this network" when connecting to certain Wi-Fi networks recently, although the network was working with other devices.
Fixed an issue which could lead to Windows Sandbox opening to just a black window on certain PCs.
Sedangkan itu, untuk Known Issues tentu saja ada dimana diantaranya adalah:
We're looking into reports that audio stopped working for some Insiders after upgrading to the latest flights.
We're investigating reports of a few different apps having started crashing in recent builds.
We're investigating reports that some Insiders are seeing OneDrive setup asking for permission to set up every time their PC reboots.
We're working on the fix for an issue where command bar items like copy, paste, and empty recycle bin may unexpectedly not be enabled when they should be.
We're investigating some issues where uninstalling certain apps using Settings > Apps > Installed apps isn't working correctly.
The taskbar sometimes flashes when transitioning between desktop posture and tablet posture.
The taskbar takes longer than expected to transition to the touch-optimized version when switching between desktop posture and tablet posture.
Using the left or right edge gestures can result in the Widgets or Notification Center (respectively) to overlap with or look truncated by the taskbar.
When using the bottom right edge gesture to see Quick Settings, the taskbar sometimes stays stuck in the expanded state, instead of dismissing to collapsed state.
When there are no running windows on the desktop, the taskbar can sometimes collapse, when it should be expanded.
[NEW] In right-to-left display languages like Arabic, content animates out of view before the widgets board resizes when clicking to expanded view of the widgets board.
Notification badge number may appear misaligned on the taskbar.
Nah bagaimana, update yang menarik bukan?, jadi untuk kamu para pengguna Windows 11 Insider Dev Previews, ada baiknya kamu segera mendownload pembaruan ini ya guys.
Kamu bisa langsung saja meluncur ke halaman Settings > Windows Update > Check for Updates.
Via : Microsoft