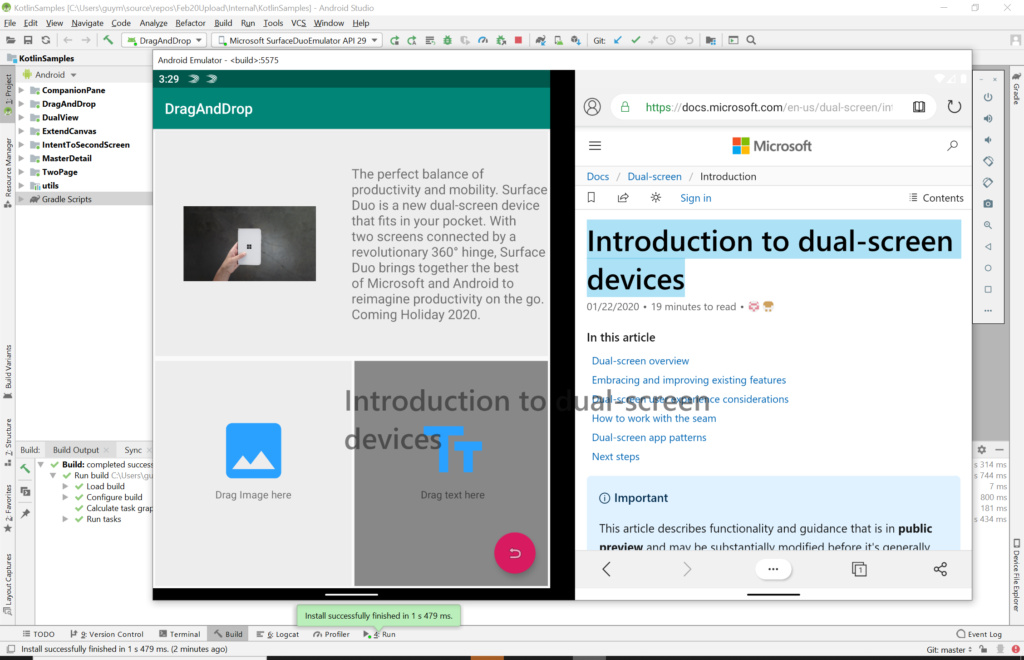 Akhir bulan lalu Microsoft merilis Preview SDK untuk Surface Duo, dan satu bulan setelahnya mereka merilis update baru terkait dengan SDK tersebut.
Berdasarkan halaman Microsoft berikut, update yang diberi label 02202020 ini membawa beberapa peningkatan, yang mana didalamnya termasuk perbaikan bug, dan peningkatan pada DisplayMask API untuk meningkatkan kompatibilitas aplikasi.
Microsoft mencatat bahwa mereka menemukan ketidak konsistenan dengan bagaimana respon display terhadap aplikasi. Untuk mengatasi masalah tersebut, kini cara ukur layar dilaporkan telah diubah untuk membuat aplikasi yang berjalan menyesuaikan dengan ukuran layar.
For apps on a single display, windows and display metrics will be related to a single display
For apps across both displays, window and display metrics will be in relation to both displays, including the display mask
Selain itu ada lagi update terhadap Displaymask API yang mana memberikan detail yang sesuai untuk aplikasi terhadap display metric.
App running in single screen mode: DisplayMask will be an empty list
App running in spanned mode: DisplayMask = hinge mask rectangle
Nah untuk kamu developer, kamu bisa mendownload Preview SDK dari Surface Duo pada halaman Microsoft berikut. Informasi lebih lanjut mengenai Display Metric dan perubahan yang diberikan bisa kamu baca pada halaman Microsoft berikut.
Sumber : Microsoft