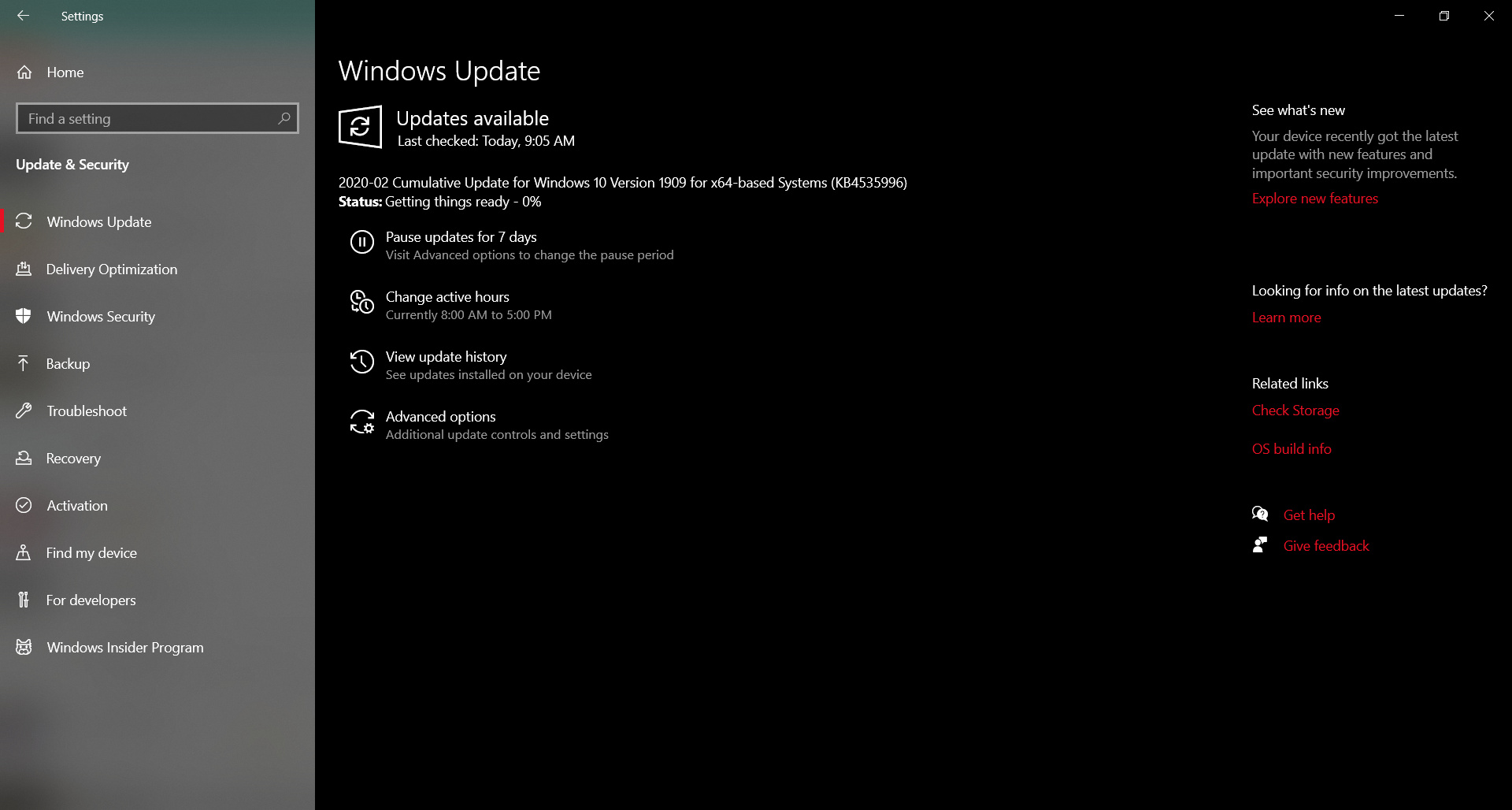 Seperti biasa Microsoft selalu memberikan update antara Patch Tuesday bulan ini dan bulan besok, update ini sebenarnya bersifat optional dan tidak diberikan otomatis, bahkan pengguna yang tidak ingin menginstalnya bisa melewatkan update ini dengan tidak mendownloadnya di Windows Update.
Update KB4535996 yang diberikan untuk pengguna Windows 10 1903 dan 1909 ini akan membawa build OS menjadi 18362.693 atau 18363.693 tergantung versi OS masing masing. Pada update ini ada beberapa perbaikan yang di hightlight Microsoft, diantaranya :
Updates an issue that prevents the speech platform application from opening for several minutes in a high noise environment. 
Updates an issue that reduces the image quality in the Windows Mixed Reality (WMR) home environment. 
Updates an issue that might prevent ActiveX content from loading.
Improves the battery performance during Modern Standby mode. 
 Updates an issue that causes Microsoft Narrator to stop working when a user session is longer than 30 minutes. 
Addresses an issue that adds an unwanted keyboard layout as the default after an upgrade even if you have already removed it. 
Updates an issue that prevents the Windows Search box from rendering properly. 
Updates an issue that prevents the printer settings user interface from displaying properly. 
Updates an issue that prevents some applications from printing to network printers. 
Untuk changelog lengkapnya, kamu bisa melihatnya dalam halaman Microsoft berikut. Yang menarik dan cukup penting adalah perbaikan masalah yang mencegah beberapa aplikasi untuk melakukan print pada network printers, masalah ini tentunya cukup menyebalkan apalagi jika pekerjaan di kantor menggunakan Network Printer. Selain itu perbaikan Accessbility Microsoft Narator yang selalu berhenti bekerja setelah digunakan lebih dari 30 menit juga diberikan, dan perbaikan ini tentunya sangat dibutuhkan.
Terkait dengan update ini, Microsoft tidak mengatakan ada masalah yang ditemukan, namun tentunya seperti biasa, masalah akan muncul dalam laporan beberapa hari kedepan, namun semoga saja tidak ada masalah yang terjadi.
Nah bagi kamu yang ingin mendownload dan menginstal update ini, kamu bisa langsung saja masuk ke halaman Windows Update dan klik Check For Updates.
Sumber Referensi : Microsoft